Delivery of MEKA equipment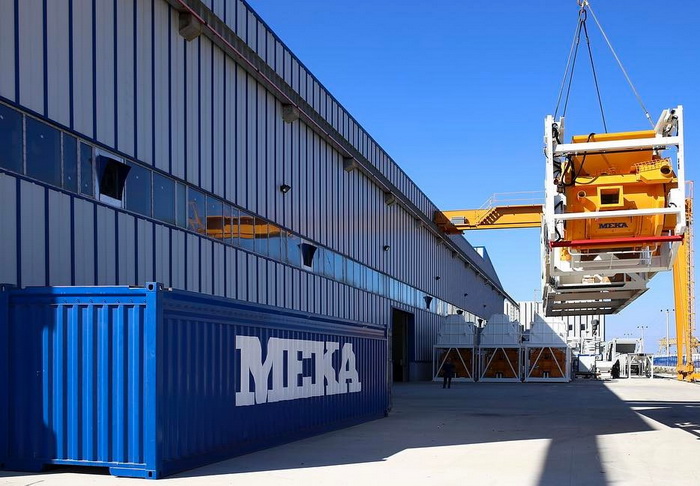 MBF GROUP company offers delivery of concrete plans, such as mobile concrete plants, stationary concrete plants, quick mounting concrete plants, and mini-concrete plants. MEKA company also offers delivery of crushing equipment, such as feeders, crushers, screens, conveyors, washing equipment, and mobile equipment.
We guarantee the fastest delivery of the MEKA equipment to any region of Europe. Delivery costs, duties, and taxes are included in the equipment price. Moreover, our brokers and logisticians will provide full customs clearance and cargo escort.
Delivery terms are separately negotiated in each case.

Execution of the factory in the corporate style
We manufacture the equipment in the corporate style of the company for free. Our designers will offer you several options.

Connection
MEKA specialist from the construction division will come to your office for the agreement on the location of the equipment at the customer's site.

Consultations
You can always get phone consultations from specialists from all divisions of the MEKA company.

Project design and technical documentation
We develop free of cost a package of design and technical documentation for the placement CMP layout at the construction site.

Selection of the source of heat supply
We will select the optimal source of heat supply for concrete plants, depending on your energy sources

The formula
Within the framework of a collaboration with the German company MC-Bauchemie, MEKA is assisting companies in the preparation of the initial concrete map.
Presentation
MEKA experts from commercial and technical departments will come directly to your office.

Schemes
We provide an unlimited number of location and layout schemes for concrete plants, as per our customer's requirements.
Learn more about our production
Couldn't find what you were looking for? Please, connect with us.
Just dial
+421 940 399 389
and we will help you.
You can also send a mail request to info@mekacrushers.sk , or fill in the application form.
Use this option to apply for a visit to your office by our MEKA specialists from the commercial and technical departments